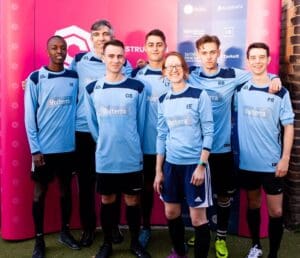 On 13 September Volterra participated in the IBI Group Construction Cup, a five-a-side charity football tournament featuring 40 teams from across the industry.
Despite being relative minnows up against some large multinational firms, we won 3 of our 4 group games to qualify for the knockout stages where we lost narrowly to one of the eventual finalists. Star performer Luke Thurley bagged 12 of our 16 goals, whilst new recruits Ian Mwiti and Ross Bateman seamlessly slotted into the team before starting work with us the following Monday!
An enjoyable time was had by all and it was great to participate in an event that supported Mates in Mind, a charity dealing with mental wellbeing in the workplace.